French
German
Spanish
Our booklet about Detransition
Download your booklet here:

︎︎︎PDF English
︎︎︎PDF Deutsch
︎︎︎PDF Français
︎︎︎PDF Nederlands
︎︎︎PDF Español
︎︎︎PDF Svenska


Please keep in mind that we are only two people working behind this project and that it can sometimes take a while until we have processed your order.

We've created Post Trans in June 2019. Our goal with this project was to make detransitioners and desisters see that they are not alone and that there is a diversity of people who, like them, decided to stop transitioning. As Post Trans developed, more and more detransitioners contacted us to share their stories and ask for information and support. We realised that there was an urgent need for filling the existing information gap and providing resources about detransition.

This is how we came to the idea of creating a booklet on the topic. Just like for everything we do with Post Trans, we wanted the various voices of detransitioners to be central to the booklet. We gathered written experiences of 75 female and male detransitioners and created the content based on their wishes, advice and thoughts. The 50-page long booklet has the objective to reach detransitioners and desisters, their relatives and close ones, people who consider a transition and wish for more information, health professionals such as endocrinologists or therapists, or anyone who wants to learn more about the topic.

Our objective with the distribution of the booklet is to start discussions about detransition in an empathetic way, with the sole aim of improving detransitioners' and desisters' lives. We do not want to invalidate trans people's lives and experiences in any way. Simply, we believe that it is time that detransitioners are included in conversations and that they start being listened to and cared for rather than being systematically dismissed.

If you would like to help us with the distribution of printed copies, you can fill out our form. You can find the downloadable PDFs in all available languages at the top of this page.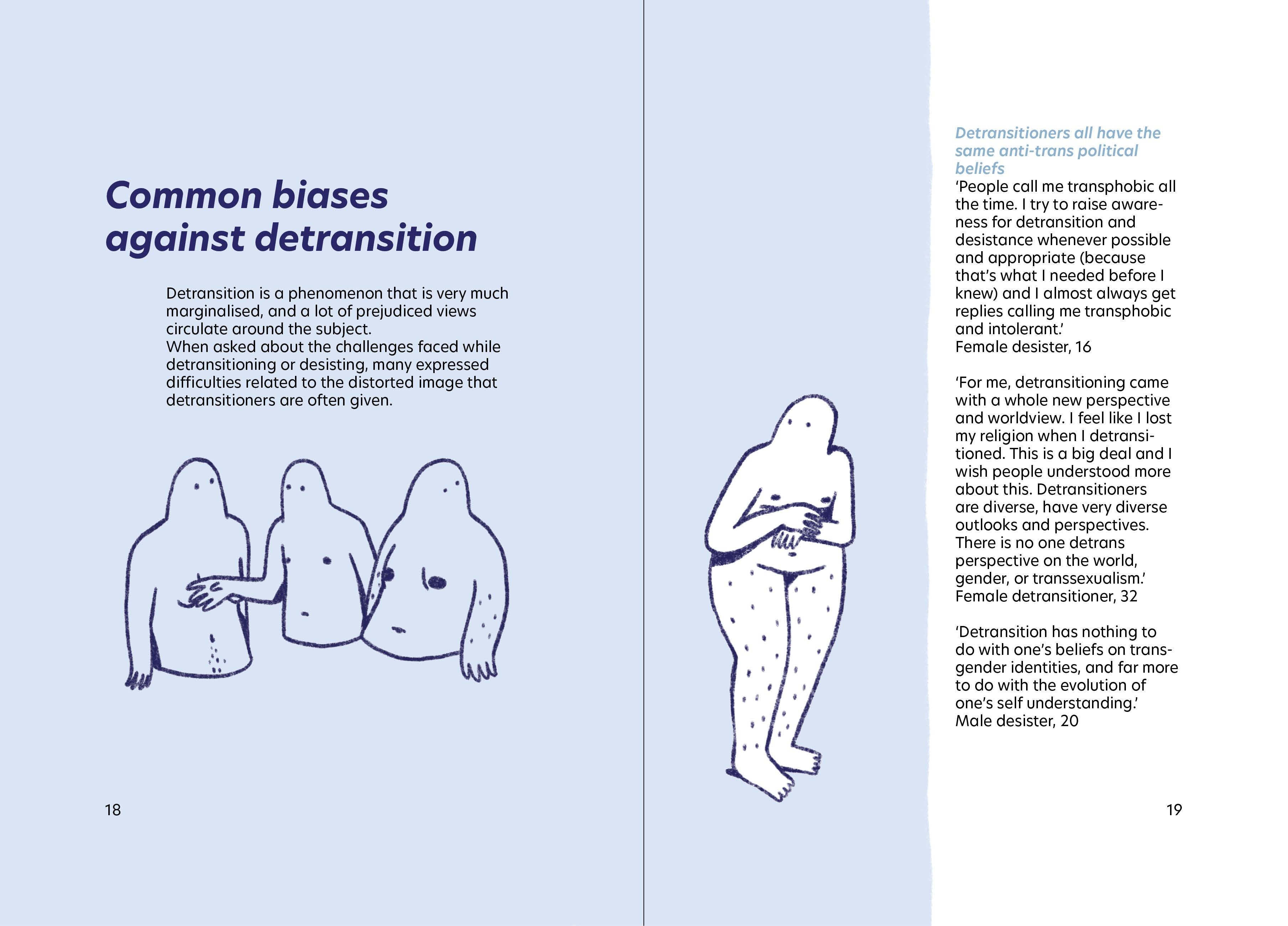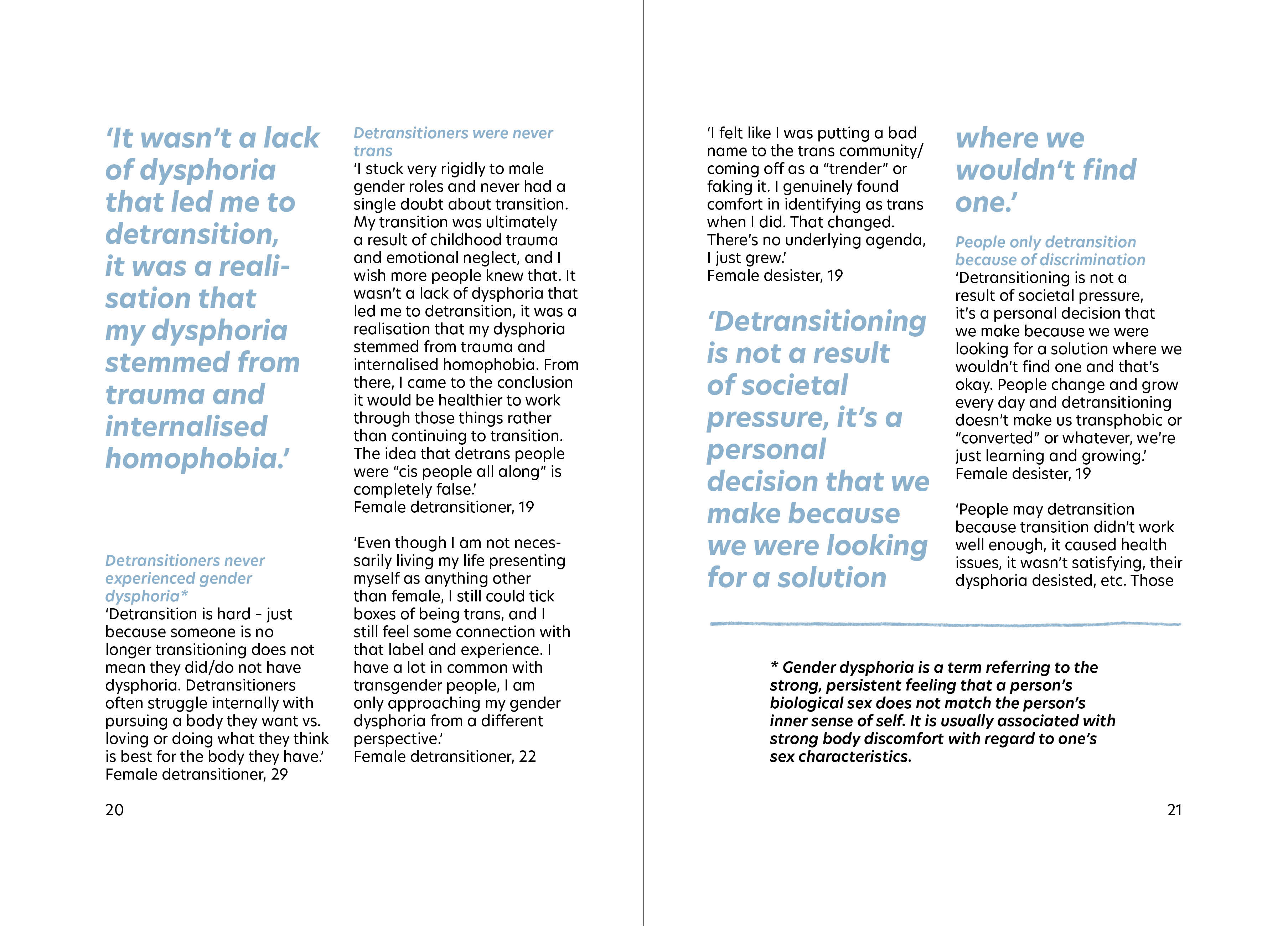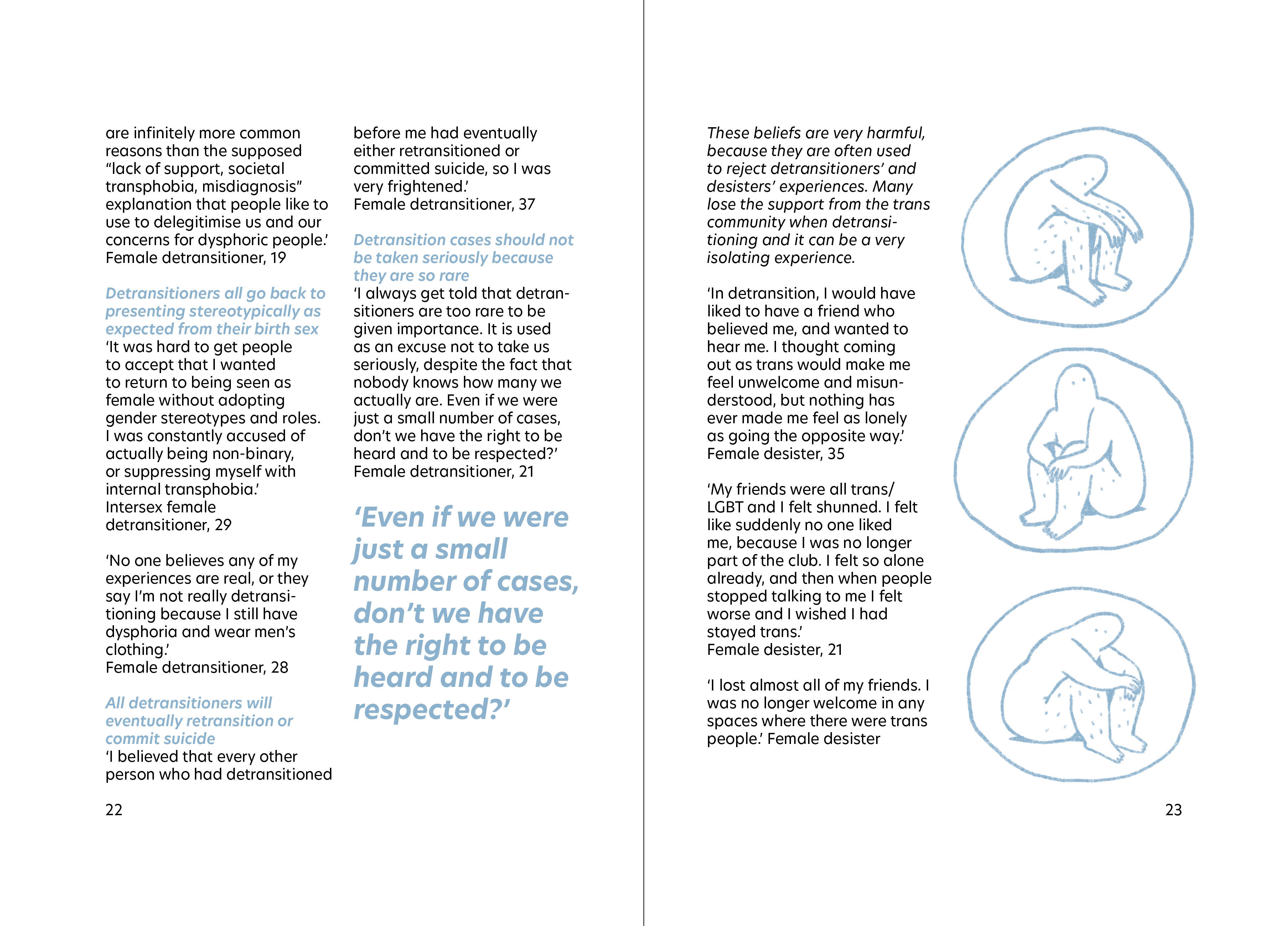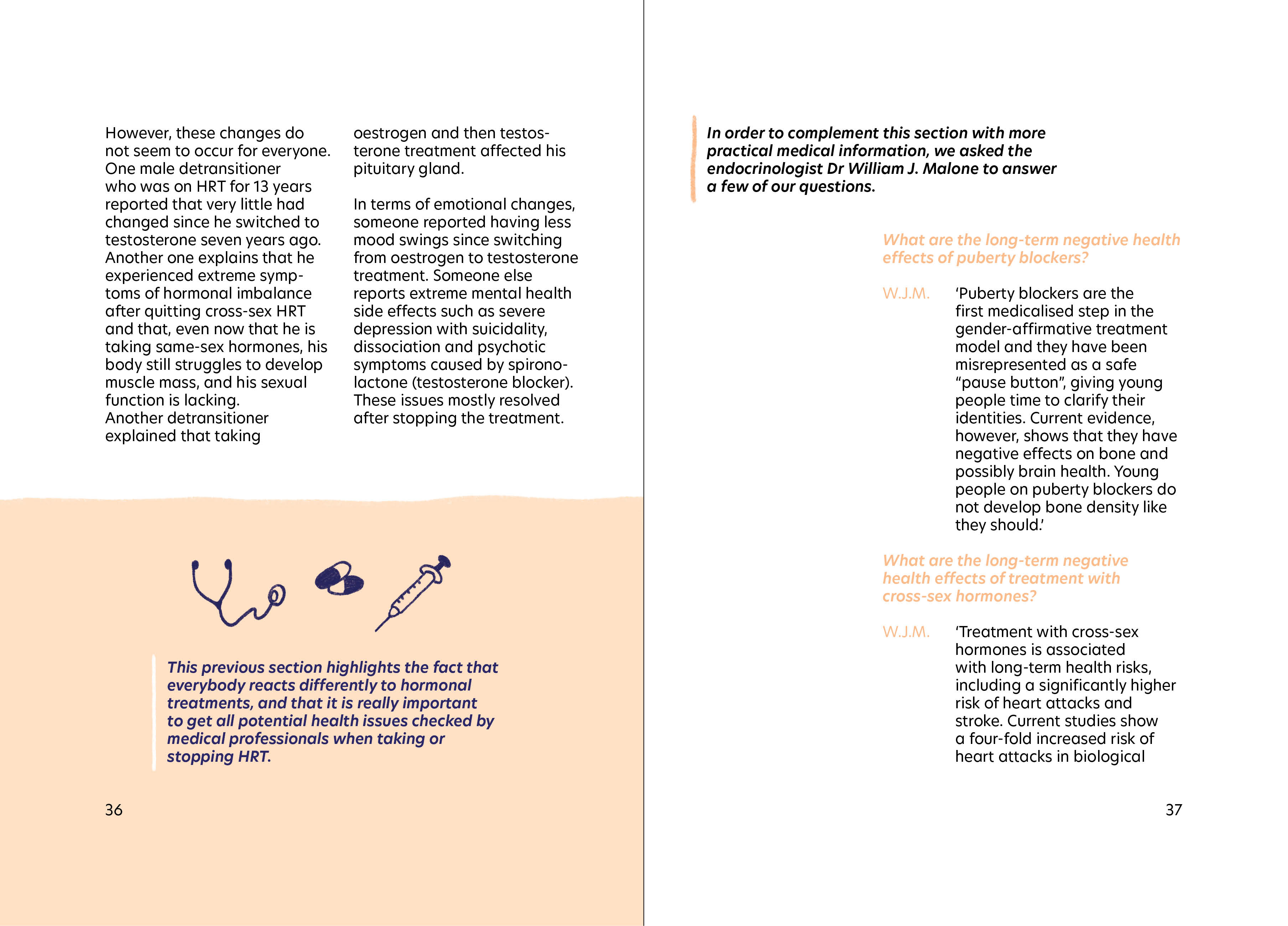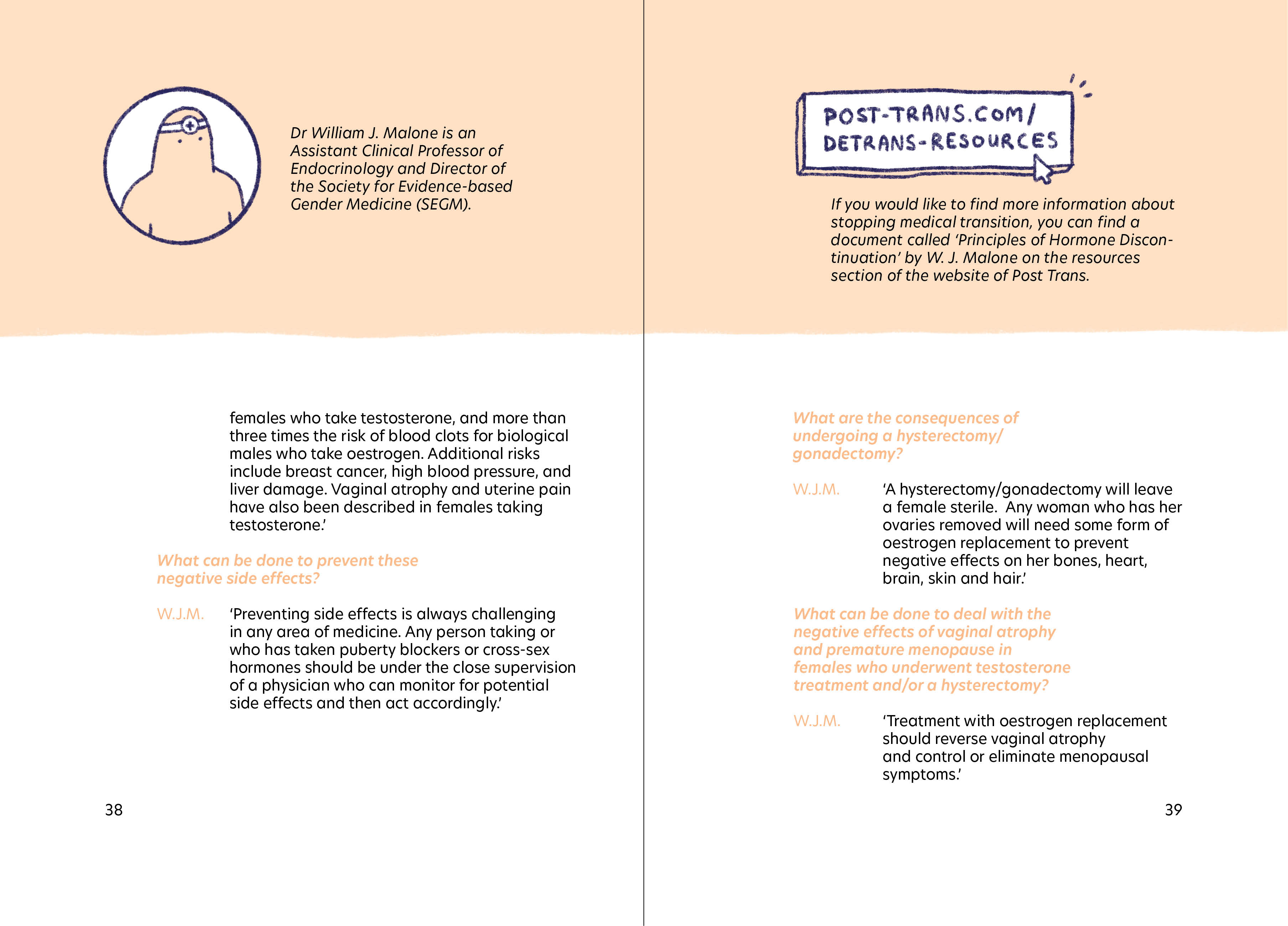 We would like to warmly thank everyone who supported us throughout this project. In particular, the following organisations:

Printing and distribution in the US and Canada:


Printing and distribution in the UK:
Translations (FR, NL, DE), printing and distribution in Belgium:
this website and all its images are protected by copyright. reproducing or distributing an image or part of an image in any form or manner is illegal. they may not be published without prior permission from the founders of Post Trans.